The dating site is something that can be a great way to meet one night stands, but just like the traditional forms of meeting women there are things that you can do to increase the likelihood of sex, and then there are things you can do to ensure that sex won't happen. When you devise your profile on a dating site there are different ways to attract women depending on what you are looking for. If you are going to want to have a long term relationship with a woman, you are going to want to create a different profile than if you just want to have a one night sexual encounter with them. Likewise if you want to just have one encounter you are going to want to make a different profile than if you would like to put them into your arsenal of booty calls for anytime you want to shoot them a text.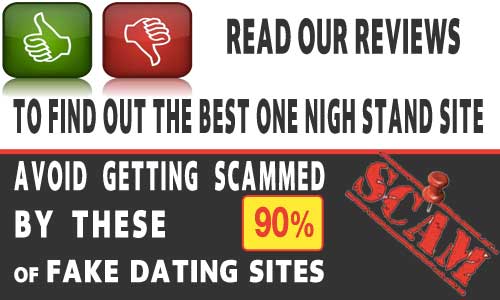 We noticed that there were times when our emails to ladies were extremely successful and then there were times when they didn't get us the response that we wanted. Worse yet, there were times when our emails didn't even get any response at all. Realizing that there was something special in the emails that got us what we wanted, we set out to isolate what it was that women were looking for on one night stand sites. There were magical words that they were waiting to hear that enticed them to want to write back, and eventually that made them want to meet us for a sexual encounter.
What most guides give you are the things that you absolutely shouldn't say, but that leaves most wondering what it is that you should say. Giving someone only the things to leave out isn't very effective. That is why we decided to approach this guide differently. We wanted to give you the tools that you need to score every time. Not just the things to avoid, we give you all the triggers that will have women blowing up your email to have the best sex of both of your lives. We directly tell you the things that don't work, along with the things that we have found out do work.
Try to avoid making these mistakes
The mistake that most men make is to think that one night stand sites are the same as any other dating site. When you meet women on a booty call site they are looking for something very different from what women on dating sites are looking for. Not wanting a long term relationship, they are on the prowl for a quick and easy meeting a hookup up. They are also looking for the type of guy who takes charge. They aren't interested in the guy who is sensitive and kind, they want someone who is going to make them feel good and take the bull by the horns. Showing sensitivity is tantamount to showing weakness.
Women on booty call sites aren't looking for long walks on the beach, or a guy who is going to be supportive. The only support they want is to ensure that if they want to hang from the ceiling during your sexual encounter you are sturdy and strong enough to support their weight. A totally different type of profile, if you don't have the key words and things that women want to hear, they are going to pass you up for the guy who does. That is the one thing to bear in mind when you are creating the perfect profile to get you all the sex you can ever dream of.
The other mistake that 99% of the guys on these types of sites make when creating a profile that will never get you laid is that they think women are attracted and turned on in the same way that men are. What types of things are you looking for in a woman's profile? If you are like most guys you are looking for nakedness and forward dirty talk. That is the exact opposite of what women are looking for. Women aren't looking for a porno star profile, they are looking for a guy who can show them a classy and confident type of personality. That is why if you are the 1% who understands that a woman doesn't want to see your junk in your profile, or some chesty shot of your naked body, you are going to beat out the competition with very little effort. It won't matter what you say in your profile, it will just be refreshing for women to not feel grossed out by the complete forwardness that other guys are putting out there. A huge turnoff you will be the star of the site without any real advantage other than that.
Create an outstanding dating profile
The normal advice that you get when you are creating a dating profile is to "just be yourself." Again that is a major mistake when you are creating a night stand profile. Women aren't looking for a sweet guy who will take care of them. They are looking for their fantasy guy. They don't care if they are a good provider, they are looking for prince charming, or the bad boy. They want someone who is too good to be true. Don't be yourself. Don't say what you want and definitely don't be honest. The profile is the place where you want to create a total story full of fantasy for the girl. They are looking for something that is the base of every fantasy they have ever dreamed of. Those types of guys don't exist, but you can create yourself to be them. So, in a nut shell what I am telling you is that you have to lie, and lie well.
Think about the guy you have always wished you could be. The guy who is in the movies, or at the club, that has women falling all over him. What does he have that you don't? He has a presence of cool. Now is that time that you can have the same thing. It is important for you to think of the character you would most like to be and become them. If you have always wanted to be an international spy, go for it. You have to create the profile that girls dream of, and then become that guy.
This is the biggest turnoff of any women out there
The most important thing is to be confident. No matter who you decide you want to be, you have to make sure that you are sure of who you are. Women can smell insecurity a mile away and that is about the biggest turnoff to any woman. When you are choosing the character you want to become just make sure that you are able to pull it off. The profile that you create will eventually be the man that she is looking to meet. If you are unsure that you are as cool as you are making yourself out to be, it will never work.
There are things that turn women on and then there are things that don't. Men assume that women are only impressed by the size of their wallet. Don't get me wrong, that is definitely a turn on to most women, but, that is only true if they are thinking about a guy who can give them what they want in life. For a sexual encounter the only reason that a woman is going to be impressed by money is because it stands for power, but only inadvertently. If you want to show that you are powerful, telling her how much you have, won't impress her. There are activities that you can engage in, that you talk about in your profile that will be a huge turn on.
There are 3 top things that would catch her really quick
You can mention as your interest that will catch any woman's eyes. Most women on these sites are looking for the strong, powerful guy, or the bad guy. Both of these men have 3 things in common that they like to do. When you are creating your profile make sure to mention these three things.
Throwing into your profile that you like to ride in fast moving automobiles, or motorcycles says to a woman that you are fearless and like living on the edge. Those are both things that every woman wants. The other thing that you can mention is that you are a world explorer. Women like a guy who is a free spirit and not chained behind a desk. They want a real adventurer who is experienced and has seen it all. The third thing that you will want to mention is that you are independently employed. When you work for yourself it says that you don't take direction from anyone else. That is the most powerful thing you can do. Not guided by what others tell you to do, you are a "take command" type of guy. When we used these three things, we got the most women contacting us.